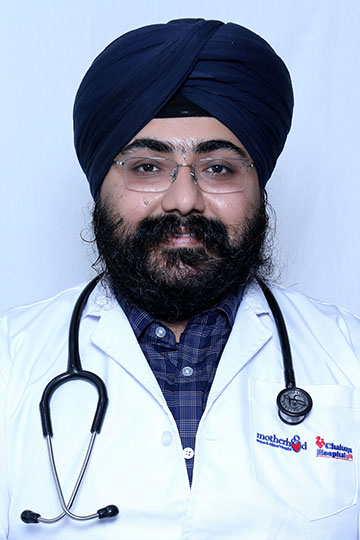 Consultant in Neonatology, Motherhood Chaitanya Hospital
"Dr Jaskaran Singh Sawhney has done his MBBS from Government Medical College, Chandigarh and MD Paediatrics from the prestigious Christian Medical College, Ludhiana, followed by fellowship in Neonatology from Government Medical College, Chandigarh. He has worked in Level 3 NICU during residency and is currently working at one of the busiest neonatal units in the tricity with a total experience in Neonatology of almost 10 years.
He has expertise in all kinds of management strategies of neonates, along with seeing clinical protocols, training and curriculum of IAP and NNF neonatology fellows including supervision of thesis work. In addition, he has received training in Functional Echocardiography for neonates and Point of care Ultrasonography at Sir Gangaram Hospital, New Delhi. His areas of interest are neonatal hemodynamics, POCUS, neonatal ventilation, High Risk follow up and care of ELBW and VLBW neonates in NICU. He is executive member of IAP, Chandigarh (2021). His achievements include saving 24 weeker neonates weighing less than 500 gm twice in his career.
He is actively involved in training and mentoring of NICU nurses and is the active lead in institutional Infection control committee, Quality Control Committee and Ambulance Committee. He is also actively involved in conducting and Clinical Audits in the unit. He is also lead the internal committee in successful accreditation by NNF for Level III A and NABH audits."