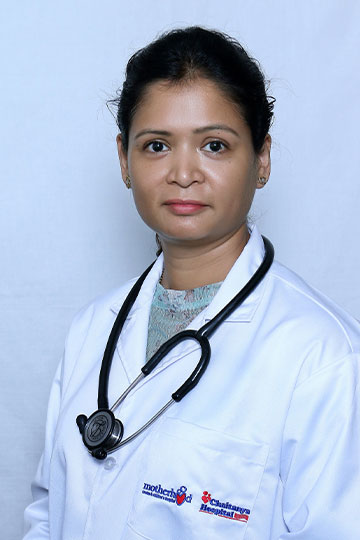 Consultant in Neonatology, Motherhood Chaitanya Hospital
"Dr Bijaylaxmi Behera Is a Consultant Neonatology & Paediatrician Currently Working in Motherhood Chaitanya Hospital, Chandigarh Having Total Experience Of 11.5 Years of Paediatrics & Neonatology. She Has Passed Her MBBS From SCB Medical College Cuttack, MD Paediatrics from PGIMER Chandigarh, NNF Neonatology Fellowship from Sir Ganga Ram Hospital, New Delhi & DM Neonatology From MAMC, New Delhi. She Has Expertise in Managing Extreme Premature, Critically Sick Babies & Has Special Interest in Conventional, HFO Ventilation, Central Line, General & PICC Line, USG Brain, Functional Echo, Ventricular Tap, LP, Infectant Delivery.
She also has Performed Interest in Academic's with Various National and International Publications & Research Work.Psychological Testing in field of pediatrics- Intelligence Tests, K- SAD Scale for analysis of psychopathological in children, Learning Disability Test, Memory Function Test, Children Apperception / for emotional problems within children and adults and old age people. Childhood Comprehensive Analysis.
Focused Psychotherapy Areas:
Child and Adolescent Counseling
Behavioral counseling, counseling for enuresis problems in children, learning problems in children.
Psychotherapies for teenage problems and stress management.
Psychotherapies for children/adolescents related to fears, emotional- relational problems, Exam fear, study problems, behavioral problems etc.
Psychotherapies for various problems in adults and seniors Cognitive Behaviour Therapies for cases of Depression, Somatoform disorders, Obsessive- Compulsive disorder etc.
Jacobson's Muscle Relaxation technique for people facing anxiety due to personality pattern or due to various,
Stresses or illness related problems (like due to cancer, hypertension, headache/ migraine, pain disorders, Mild- Moderate cardiac problems etc.)
Thought Stopping Exercises for Obsessional problems.
Systematic Desensitization for people with different type of phobic conditions.
Marital counseling, Family Counseling.
Rehabilitation Counseling for Alcoholism and related drug problems.
Family counseling in cancer patients, cardiac patients.
Psychotherapies for cancer patients. IVF Patients facing depressive and anxiety phases.
Relaxation therapies by biofeedback machines for general anxiety, insomnia, mild depression and stress management.
LIFE STYLE MANAGEMENT, CORPORATE STRESS MANAGEMENT"